High School Student ENERGY PITCH
Mishima-Kita High School wins top prize of 3-month long competition organized by The Denki Shimbun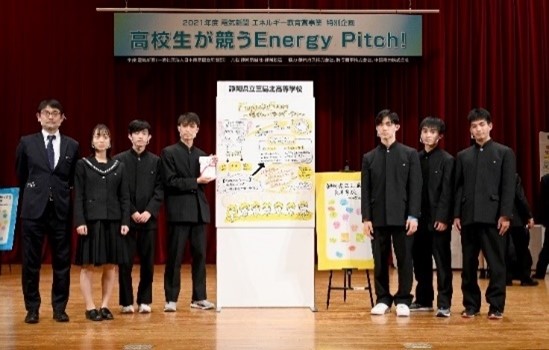 Students taking the "STEM for SDGs" course under the WWL initiative took part in the 3rd High School Student Energy Pitch. This year's competition was based on the theme "Solving Social Problems with Energy Planning for 2050"
Students began discussions in the first term of school to decide on the direction of their research, and to select the expert lectures to attend. With the newly gained knowledge from the various lectures, students finalized their ideas and thoughts for the selection in November.
ENERGY PITCH – SEMINAR ON THE BASICS OF ENERGY
Date: 4 September 2021 (Sat)
Lecturer: Kaneda Takeshi, President of Universal Energy Research Institute Inc.
ONLINE LECTURES BY EXPERTS
Lecture 1 Fusion Power Generation
Basics of fusion power generation, which is the dream of future energy, including current research, future prospects and possibilities, and the ITER
Date: 14 September 2021 (Tue)
Lecturer: Kasugai Atsushi, Rokkasho Fusion Institute, National Institutes for Quantum Science and Technology
Lecture 2 Hydrogen Society – Now and Future Possibilities
Date: 2 November 2021 (Tue)
Lecturer: Niizuma, ENEOS
JOINT LECTURE FOR ENERGY PITCH AND WWL
Next-generation biofuels and future possibilities from the perspective of SDGs – Current status and future possibilities
Date: 30 October 2021 (Sat)
Lecturer: Odate Korehiro, Executive Officer, Energy Company, Euglena Ltd.
Ono Hiroyuki, Director, Suzuyoshoji Ltd.
Venue: Tokoha University, Kusanagi Campus
THE 3RD HIGH SCHOOL STUDENT ENERGY PITCH (2021) PRESENTATION
Preliminary rounds, Review and Final round
Date: 20 November (Sat) – 21 November 2021 (Sun)
Venue: Parche Meeting Room, Shizuoka Station Building, Lecture Hall, University of Shizuoka
Students investigated various power generation methods to eliminate the instability of the supply of renewable energy due to varying weather conditions. Hydrogen energy was proposed as an alternative energy to promote the move toward a carbon-free society. To achieve that, the team explored the use of small modular reactions (SMR) as a means of nuclear power generation, and the use of fusion energy for hydrogen production.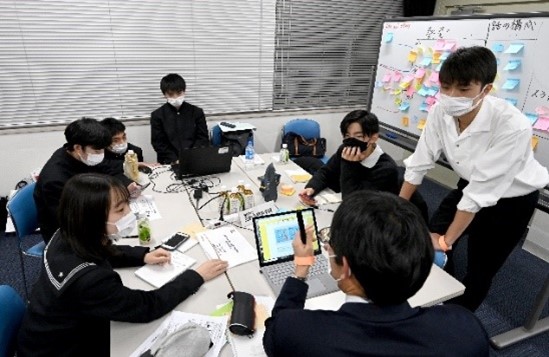 The 2-day event provided students with ample time to focus and reflect deeply on their work before moving on to the final round. Students were able to learn significantly in a short period of time.