2021 FALCon International High School Student Conference
The 2021 FALCon International Student Conference @Mishima was organized by Mishima Kita Senior High School in our capacity as the Center School for WWL from 17-19 September 2021. "AMulti-Dimensional Approach to SDGs: Crisis prevention and management" was set as the theme for this conference. A total of 11 schools from 5 countries participated in this conference.
Participating Schools
Heathfield High School (Australia)
Jurong West Secondary School (Singapore)
National Magong High School (Taiwan)
Owatonna Senior High School (USA)
Reynella East College (Australia)
WWL Partner schools
Shizuoka Prefectural Numazu Higashi Senior High School
Shizuoka Prefectural Shizuoka Senior High School
Shizuoka Municipal High School
Nagasaki Prefectural Nagasaki Higashi Junior and Senior High School
Miyagi Prefectural Sendai Nika Junior and Senior High School
Center School for WWL
Shizuoka Prefectural Mishima Kita Senior High School
SEPTEMBER 17 (FRI) OPENING CEREMONY AND KEYNOTE LECTURE
The opening ceremony was held at the Mishima Citizen Cultural Center (Yuyu Hall). Due to the coronavirus pandemic, participating schools overseas and outside Shizuoka were unable to join us at Mishima and were instead connected online. The ceremony was hosted by the Student Executive Committee for this conference.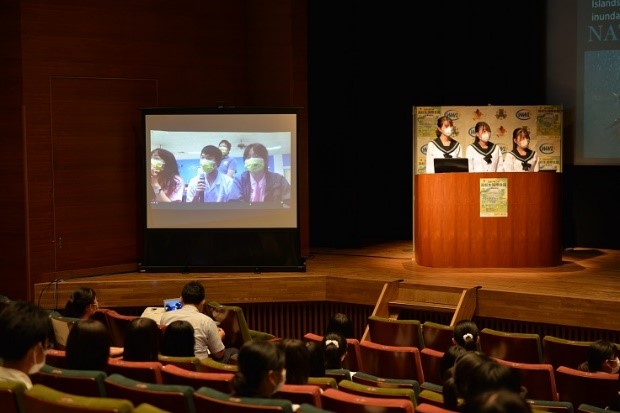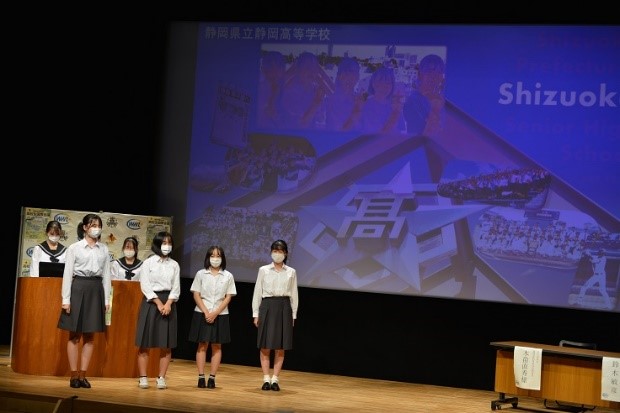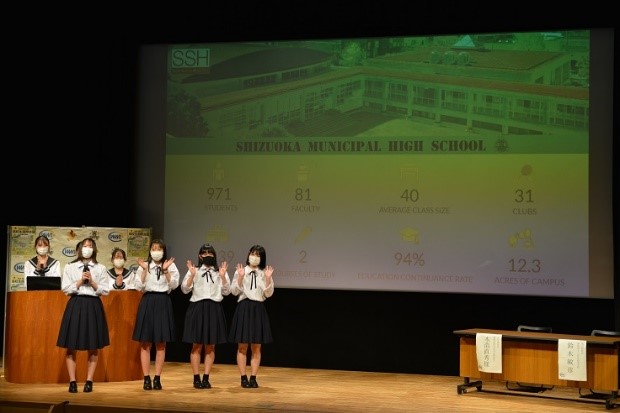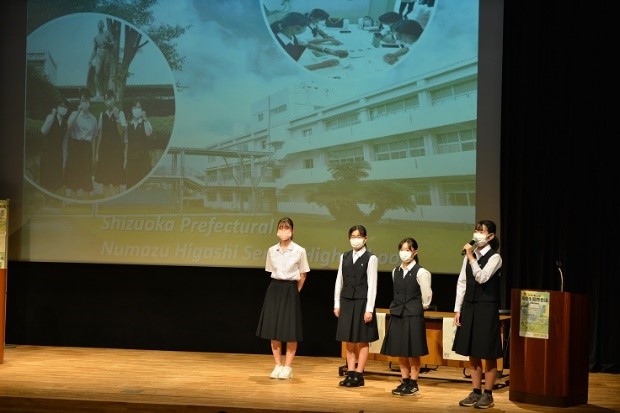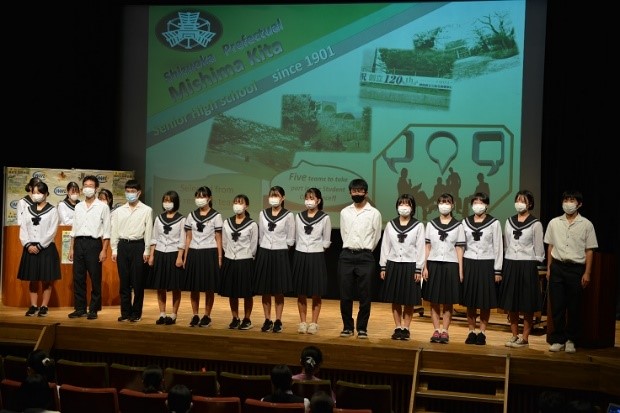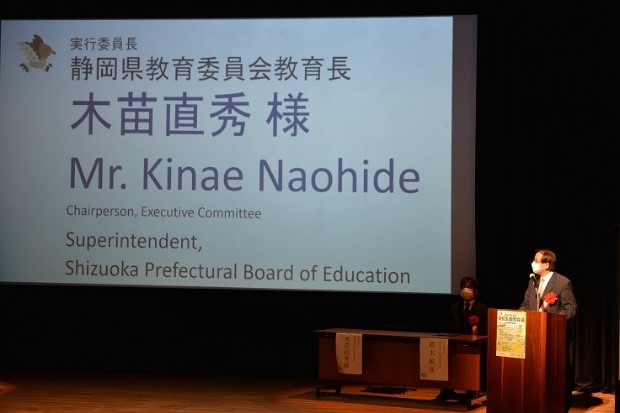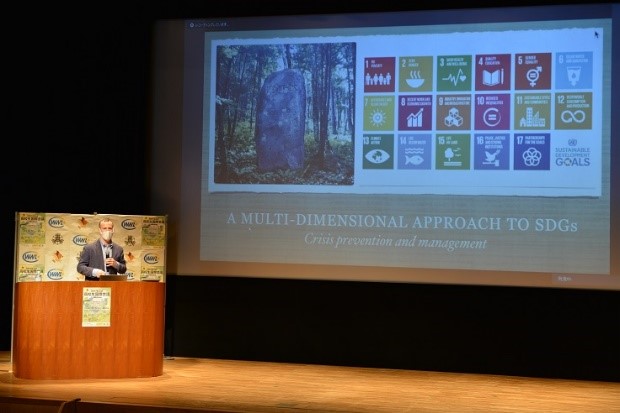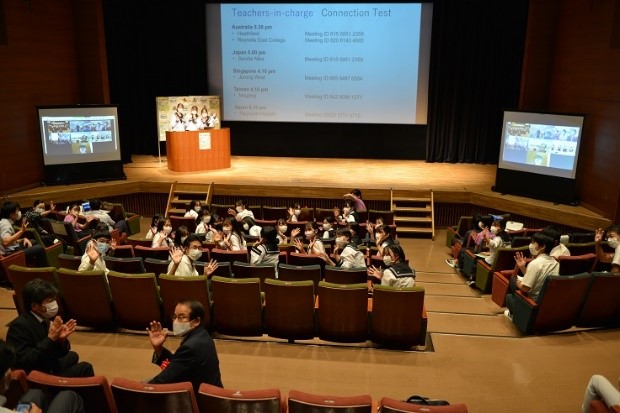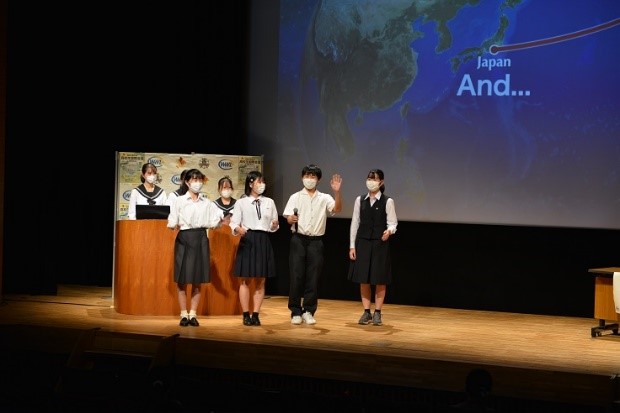 Program for Opening Ceremony
Opening movie
Speech by the Superintendent of the Shizuoka Prefectural Board of Education
Welcome address by the Principal of Mishima Kita Senior High School
Introduction of participating schools
Declaration
Keynote Lecture
Title: A Multi-Dimensional Approach to SDGs, Crisis Prevention and Management
Associate Professor Peter Hourdequin, Tokoha University, Faculty of Foreign Studies
SEPTEMBER 18 (SAT) MAIN PROGRAM
27 students from our school and 3 WWL partners in Shizuoka gathered at Mishima Kita High School for a day of presentation and online discussion with their peers overseas and outside Shizuoka.
Students presented their assigned areas of concern with regard to the conference theme and discussed possible areas of collaboration and partnership to achieve the SDGs.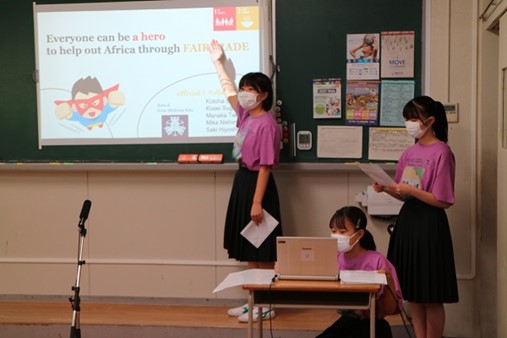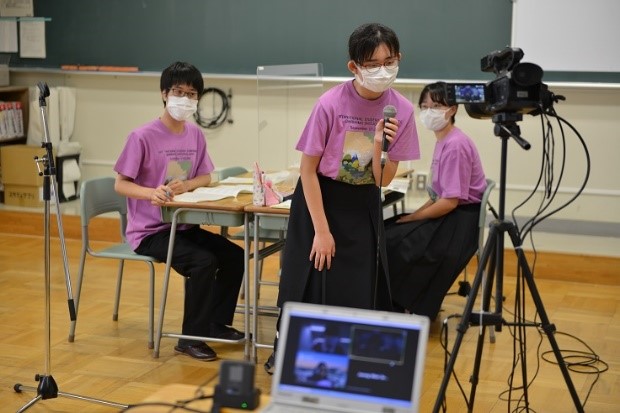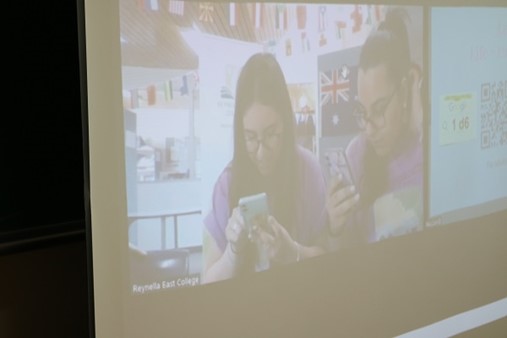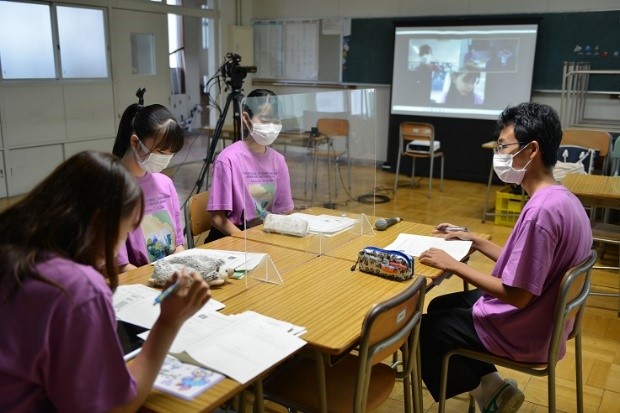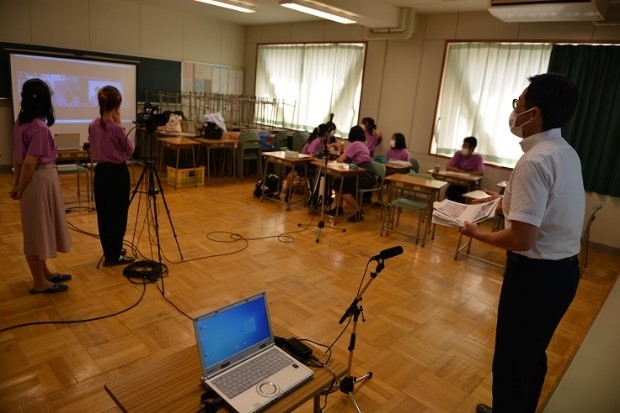 Student Presentation and Feedback from Professors of Universities in Shizuoka
Prior to the conference, schools were each assigned an area of concern - Deprivation, Scarcity, Deterioration, Mis-management, or De-prioritizing. Each school was also assigned an approach (education, business or STEM) to take to manage or prevent a crisis of their choice in their assigned area of concern.
3 teams from an overseas school, a partner school, and the center school shared with one another their research findings on their common area of concern, with each team taking a different approach.
Students were greatly inspired by the presentations of other teams and the diverse solutions proposed to solve similar problems.
Breakout session facilitated by university students
At this small group discussion, students were seen working hard to express themselves and communicate their ideas in English, occasionally looking to their facilitators for help. The 10 university student facilitators, who are graduates from the participating schools in Shizuoka, flexibly facilitated the discussion, enabling the participating students to perform at their full potential.
Lectures by expert facilitators
Lecturers from universities in Shizuoka were invited as experts to provide comments on student research presentations and to give a short lecture on the 5 areas of concerns.
Professor Furukawa Mitsuaki (School of International Relations, University of Shizuoka) spoke on the area of concern – Deprivation
Professor Emeritus Yamamoto Ryuzo (School of Business Administration, Tokoha University) spoke on Scarcity issues
Professor Emeritus and Specially Appointed Professor Kumano Yoshisuke (Faculty of Education, Shizuoka University) spoke on the area of concern -- Deterioration
Project Associate Professor Nanjo Kazuyoshi (Global Center for Asian and Regional Research, University of Shizuoka) spoke on Mis-management issues
Professor Takahata Sachi (School of International Relations, University of Shizuoka) spoke on the area of concern - De-prioritizing
SEPTEMBER 19 (SUN) DECLARATION VIDEO MAKING AND VIEWING, CLOSING CEREMONY
As a deliverable of the conference, students created a 3-minute Cross-border Proposal Movie.
Students had to propose a solution to an issue happening in another country based on what they had learned on the day before. While students gathered here in Mishima were able to work with participants from various schools, overseas participants had to work within their own school. Despite this and limited time, students were able to come up with great ideas and cooperated well to produce interesting movies.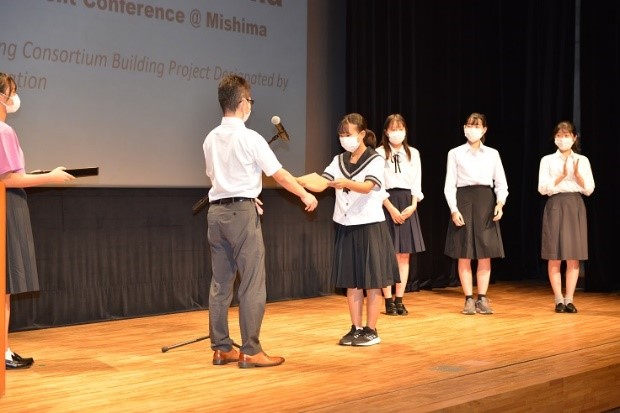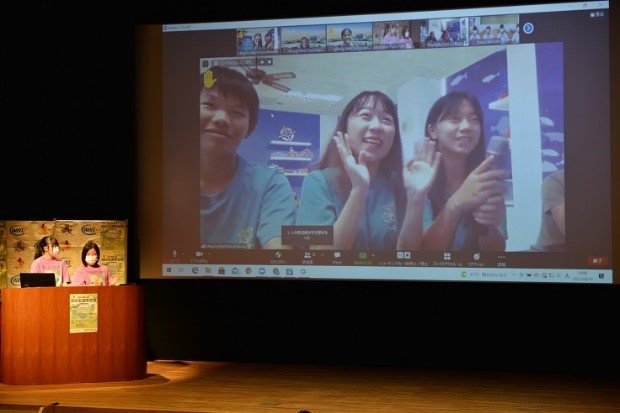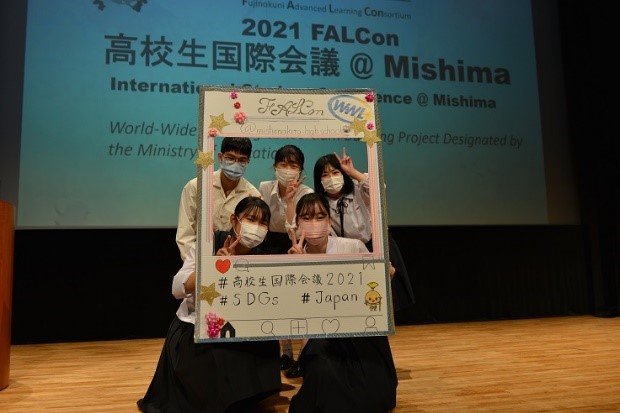 Screening of Proposal Movies and Closing ceremony
Conference highlights
Screening of Cross-border proposal movies
Closing speeches
Photo taking
All 12 Cross-border Proposal Movies, shot in various formats such as skits, news program, and presentation, were ingeniously designed. Despite the limited activity time due to the time difference constrains, students were able to have fun while working and learning together.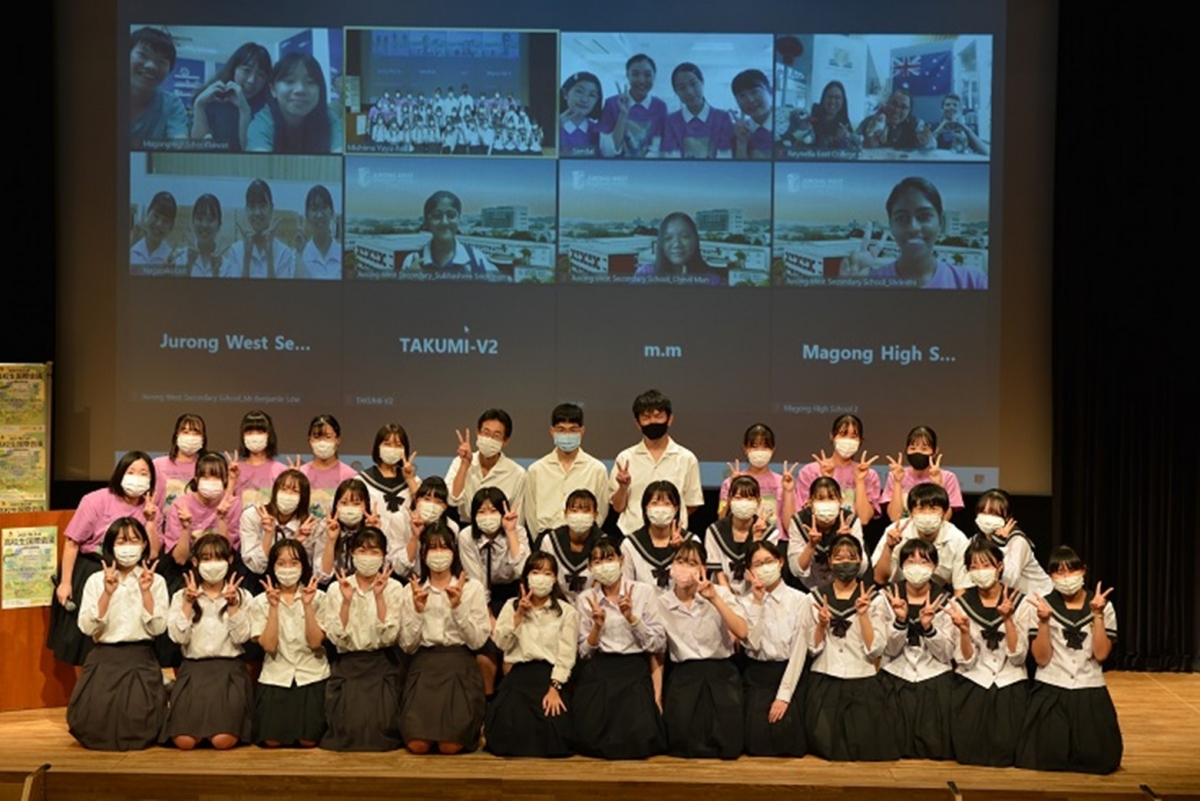 CONFERENCE PROCEEDINGS
The opening declaration and highlights of the conference can be viewed online.
COMMENTS FROM PARTICIPATING STUDENTS
I have had several opportunities to discuss SDGs in class, but this is my first time to exchange ideas with students from overseas. It's interesting to see that what's thought of to be an issue differs depending on the country in which one live.
It was a great opportunity to think deeply about the SDGs. Also, listening to the ideas of others and lectures on the areas of concerns that my team did not explore was a great learning experience. At the same time, I started to want to know more.
Having experienced communicating in English with people from other countries has made me realize that it is more important to be able to convey an idea than to achieve perfect language accuracy. I also learned that achieving the SDGs can be done with various approaches, and that they are all intricately interconnected. It has been a valuable learning experience. Thank you!
While I had worked hard on my research in school, it was when I was exchanging ideas with students at this conference that I found that there was so much more that I did not know. Interacting with students who researched the other areas has allowed me to gain new perspectives. I think this experience will be useful when I do research in school in the future.
It was a very good experience to be able to meet and interact in person with students from other schools, and to be able to communicate with people from overseas online even during this Covid pandemic.