Awards and accomplishments for 2019-2020
High School Student International ESD Symposium / The 1st SDGs Global Engagement Conference@Tokyo: organized by Tsukuba Sakado High School
Date: Nov, 7
Team Mukkurun: They researched how to live comfortably together with wild starlings, focusing on the smell from their excrement. They are working on making deodorizers.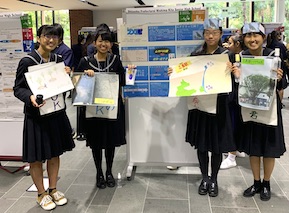 Energy Pitch!: organized by Denki Shinbun newspaper
Date: Nov, 24
Team Shiroi Sunahama(the second prize): They introduced the possibility of changing people's mindset regarding consuming plastic into generation of energy by artificial photosynthesis technology.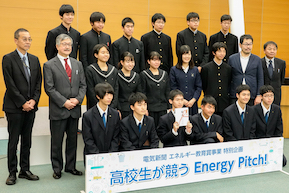 Green Blue Education Forum Contest, U-18 category: organized by GB Education Forum Committee
Date: Nov, 30
Team Ametrine(the second prize): They illustrated their experiments to purify contaminated water with copper by dried banana peels. They emphasized that using a method that incorporates organic materials is superior to using chemicals for maintaining the environment.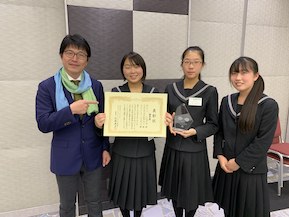 National High School Student Forum: organized by the Ministry of Education and Tsukuba University
Date: Dec, 22
Horie Takuto(audience voting award): He made a hand-made tool to collect ocean plastics which produces micro bubbles. He produced an artwork using the collected plastic particles and explored the possibility of turning ocean plastics into something people can enjoy.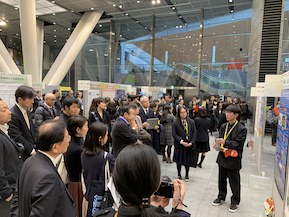 High School Student Business Plan Contest: organized by Tokoha University
Date: Feb, 8
Team Mix(grand pri): They researched how to send funds to targeted countries, comparing different NGOs and designing original leaflets to introduce those NGOs.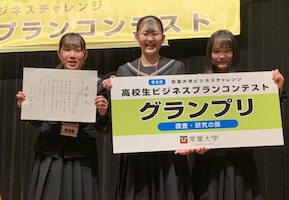 High School Student My Project Award, Kanto District Summit: organized My Project Award Committee
Date: Feb, 9
Team STC(attendance): They explored how to reduce teachers' workload by setting a reflective sheets to the windows so that teachers can check the locks easily.
Team Torasshu Bazuka(attendance): They made original card games to introduce some institutions that support female workers.